Ičići Beach
In Ičići you can find one of the most beautiful beaches of the Opatija Riviera. It's situated in the centre of town, near ACI marina. The beach has two parts: land part with catering facilities and pebbly part. Every year there are many investments in the beach and because of that, for years, this beach is the pride owner of the Blue Flag – the recognition for cleanliness of sea and its eco standards. On the beach guests can rent sport equipment (deck chairs, sunshades, pedal boats, canoes, safe-deposit boxes ecc.). The beach is also suitable for sport activities: volleyball, soccer, badminton on the sand. In the sea there is a court for water polo. The youngest can enjoy in different kinds of slides, swings, pirate ship, sandpit ecc.
Enjoy your holiday!
Guests can also enjoy different catering facilities with a various offer and shops with beach assortment. On the whole beach you have access to free wireless Internet (WLAN).

On one side of the beach there is ACI marina while on the other side you will find small port, which exists from the very beginning of the place Icici. The port accepts smaller boats and gives to Icici a special atmosphere particular for a seaside town.

During the summer season different events, known as "Icici summer nights", take place on the beach.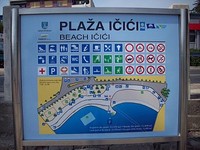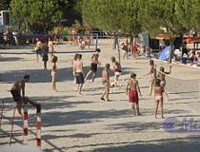 Travel agency Marea on the beach Icici has the following beach items:
- Umbrellas and lounge chairs
- pedal boats
- canoes
- Saftey box (security containers)
Visit us and enjoy one of the most beautiful beaches in Kvarner!